When a home shopper is ready to jump in with both feet and apply for a mortgage, they should know that understanding loan requirements in advance can avoid the costly mistakes that often occur in the home buying process.
5 Mortgage Loan Requirements You Can Bank On
1. Mortgage Credit Score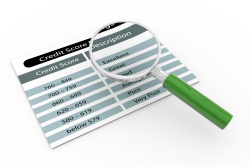 Credit scores are a three digit number between 300 and 850 that rate a consumers credit history and recent trends. Lenders review the credit score for mortgage loans for various aspects of a consumers financial history, therefore they're predictive of their likelihood to default.
The most common mortgage credit score engine is known as the 'FICO', which is what the three major credit bureaus (Equifax, Experian, Transition) primarily use for mortgage reporting.  Many lenders also feature mortgage interest rates based on credit score figures through FICO.  While most home loan products and lenders require FICO credit scores of 620 or above, mortgage for poor credit may still be available for your circumstance if you have mitigating factors.
Minimum Conventional Loan credit score:
Minimum FHA Loan credit score:
Minimum VA Loan credit score:
Minimum USDA Loan credit score:
2. Employment Status
The nature of your employment is a  key factor in determining your mortgage approval, and it dictates how your income is evaluated. If you're working a salaried position or 40-hour per week job and paid through w-2, you're documentation is less scrutinized than for self-employed mortgage applicants.  Applicants with W-2 documents income usually don't need much more. In contrast, when seeking a mortgage, self-employed applicants may need to present 2 years tax returns, 1099's and more.
3. Income and Debt Levels
Recent studies have shown that a mortgage borrower's income and debt load is a good indicator of their potential for default.  In fact, the higher an applicant's debt is compared to their income, the more likelihood they have to run into trouble.
What is Debt-to-Income?
Debt-to-income is simply the percentage of a borrower's debt compared to their total income. Lenders often use a debt-to-income ratio for mortgage loans to determine if borrowers can afford their payments.
Debt-to-income ratios, also known as 'DTI ratios', are the primary calculation that evaluates if a mortgage applicant can afford their new home. Two kinds of debt ratios are typically used for today's mortgage programs. These are their limitations.
Conventional loan debt-to-income ratio limits:
28% Top Ratio
36% Bottom Ratio
FHA debt-to-income ratio limits:
31% Top Ratio
43% Bottom Ratio
VA loan debt-to-income ratio limits:
VA Residual Income Requirements
41% Bottom Ratio
USDA debt-to-income ratio limits:
29% Top Ratio
41% Bottom Ratio
debt to income calculator
4. Loan Limits, Mortgage Amount and Property Value
Mortgage options incorporate strict loan-to-value requirements, expressed as a percentage, that place limits on financing amounts relative to a property's value.
What is a Loan-to-Value Ratio?
A loan-to-value ratio for home loans is simply the amount you borrow from a lender divided by the purchase price of the home. LTV ratios weigh lender risk, therefore stricter loan-to-value restrictions require borrower's to have 'skin in the game', as well as reduce lender exposure to losses in case of default.
In practical terms, loan-to-value ratios are what determines the down payment you'll need to pay for your next mortgage. Today's most popular conventional loan programs require an LTV ratio of 80%, which means you'll be making a down payment of 20%. Conventional mortgage applicants with lower down payments (higher LTV ratios) might be required to buy private mortgage insurance (PMI) to cover the lender in case of borrower default. PMI is a requirement for all conventional loans above 80% LTV.
deemed too risky and be denied a mortgage. Or, a lender might approve the loan, but at a higher interest rate (more risk, more reward), or require that the buyer purchase private mortgage insurance which will cover the lender should the borrower default. PMI is typically required for conventional loans with down payments of less than 20%.
Conventional loan-to-value limits:
80% LTV – 97% LTV
3%-20% Down
Maximum Conventional Loan Limits
FHA loan-to-value limits:
96.5% LTV
3.5% Down
VA loan-to-value limits:
100% LTV
0% Down
USDA loan-to-value limits:
100% LTV
0% Down
Home Appraisal
jfdgh
mortgage appraisal
home appraisal
property appraiser
How much house can I afford?
How much down payment on a house?
Mortgage Pre-approval
Conventional Loan Requirements
Conventional loans aren't directly guaranteed by the federal government, and are less than the maximum conventional loan limits established by Freddie Mac, Fannie Mae and the Federal Home Finance Agency (FHFA). Typical Conventional loan requirements include:
3-20 down
660 credit score
XX DTI
FHA Loan Requirements
FHA loans are guaranteed by the Federal Housing Administration. Today's FHA loan programs offer competitive interest rates with a down payments of only 3.5% percent. FHA loan requirements include:
3.5% down
620 credit score
XX DTI
VA Loan Requirements
VA loans were established by the U.S. government in 1944 as a reward program for veterans of the U.S. armed forces.  VA loans still provide no down payment mortgages with reduced closing costs that can't be found anywhere else.
USDA Loan Requirements
USDA loans are offered by the United States Department of Agriculture for home purchase in 'rural' areas.  USDA mortgages are the only zero down mortgage program available for non-veterans.